T150 and T180
On-Demand Hot Water Heater
Tankless water heaters are the future of hot water supply. They save energy, take up less space, and offer an endless supply of hot water. At an ultra-efficient Energy Factor of 97%, the future is now with the ENERGY STAR -approved Glow Brand T150, T180. The only system of its kind, the Glow Brand T150, T180 has on board storage of one gallon of hot water within a stainless steel heat exchanger, firing up automatically to 95F in Comfort Mode. Instead of waiting for hot water, you're treated to endless on-demand hot water. The Glow Brand T150, T180 is fully modulating and can be installed for combination space heating applications.
T150 and T180 Features
97% Energy Efficiency

Internal Storage

Dual Comfort Modes

Recirculation Applications

Space Heating Solution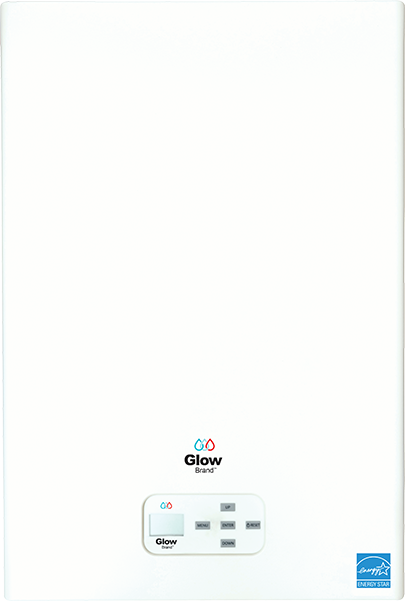 Endless Hot Water Supply

Condensing Tankless

Fully Modulating

Residential Solutions

Commercial Solutions
Changing the Way Water is Heated
Starts hot, stays hot

The Glow T180's internal stainless-steel heat exchanger holds 1 gallon.

Heat on demand

The water is heated as it passes through the unit. When your hot water fixture shuts off, the unit powers down with its next 1-gallon of heated water ready for future use.

5-gallon/minute output

Enjoy the freedom of running up to 3 showers at once with great hot water comfort, or take a shower while running the washing machine and dishwasher.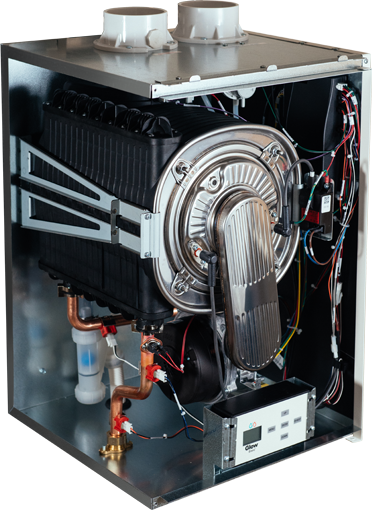 Control your mode

Choose from Comfort Mode and Eco-Mode. The water inside the unit is kept hot for your comfort.

Compact design

The unit mounts on the wall and takes up about the same area as a 200-amp electrical panel. Plus, its flexible design allows you to install it in non-traditional spaces.
Save Money
Propane Standard 50gal Tank
Natural Gas Standard 50gal Tank
Electric Standard 50gal Tank
0.67
0.67
EF ≥ 2.00
0.97
$646
$273
$557
$XXX
0.67
$646
Natural Gas Standard 50gal Tank
0.67
$273
Electric Standard 50gal Tank
EF ≥ 2.00
$557
0.992
$XXX